"It's so fine and yet so terrible to stand in front of a blank canvas."

"An art which isn't based on feeling isn't an art at all ... feeling is the principle, the beginning and the end; craft, objective, technique - all these are in the middle."

"Shadow is a colour as light is, but less brilliant; light and shadow are only the relation of two tones."

"There are two things in the painter, the eye and the mind; each of them should aid the other."

"Pure drawing is an abstraction. Drawing and colour are not distinct, everything in nature is coloured."

"Painting from nature is not copying the object, it is realizing one's sensations."

"The painter must enclose himself within his work; he must respond not with words, but with paintings."

"Painting, like any art, comprises a technique, a workmanlike handling of material, but the accuracy of a tone and the flicitous combination of effects depend entirely on the choice made by the artist."

"The most seductive thing about art is the personality of the artist himself."

"Style is not created through servile imitation of the masters; it procees from the artist's own particular way of feeling and expressing himself."

"Genius is the ability to renew one's emotions in daily experience."

"The artist makes things concrete and gives them individuality."

"Doubtless there are things in nature which have not yet been seen. If an artist discovers them, he opens the way for his successors. If I have left something unsaid, they will say it."

"God knows how the Old Masters got through those acres of work ... I exhaust myself, work myself to death trying to cover fifty centimetres of canvas."

"Painting is damned difficult ... you always think you've got it, but you haven't."

"I could paint for a hundred years, a thousand years without stopping and I would still feel as though I knew nothing."

"Fruits ... like having their portrait painted. They seem to sit there and ask your forgiveness for fading. Their thought is given off with their perfumes. They come with all their scents, they speak of the fields they have left, the rain which has nourished them, the daybreaks they have seen."

"I want to die painting."

Quotes from the renowned Italian Renaissance painter, sculpture, architect, and engineer:
Leonardo da Vinci (1452-1519).
"The mind of the painter should be like a mirror which always takes the colour of the thing that it reflects, and which is filled by as many images as there are things placed before it."

"How painting surpasses all human works by reason of the subtle possibilities which it contains."

"No one should ever imitate the style of another because he will be called a nephew and not a child of nature with regard to art."

"Learn diligence before speedy execution."

"There is nothing that deceives us more than our own judgement when used to give an opinion on our own works. It is sound in judging the work of our enemies but not that of our friends, for hate and love are two of the most powerfully motivating factors found among living things."

"Shadows which you see with difficulty, and whose boundaries you cannot define ... these you should not represent as finished or sharply defined, for the result would be that your work would seem wooden."

"He who draws ... ought to take his position so that the eye of the figure he is drawing is on a level with his own ... because generally figures or people whom you meet in the streets all have their eyes at the same level as yours, and if you make them higher or lower you will find that your portrait will not resemble them."

"He who despises painting has no love for the philosophy in nature."

"When you are painting you should take a flat mirror and often look at your work within it, and it will then be seen in reverse, and will appear to be by the hand of some other master, and you will be better able to judge of its faults than in any other way."

"O painter skilled in anatomy, beware lest the undue prominence of the bones sinews and muscles cause you to become a wooden painter from the desire to make your nude figures reveal all."

"Although the poet has as wide a choice of subjects as the painter, his creations fail to afford as much satisfaction to mankind as do paintings ... if the poet serves the understanding by way of the ear, the painter does so by the eye, which is the nobler sense."

Quotes from the French Impressionist best known for his pastels of ballet dancers: Edgar Degas (1834-1917).

"What is certain is that setting a piece of nature in place and drawing it are two very different things."

"I really have a lot of stuff in my head; if only there were insurance companies for that as there are for so many things."

"It is essential to do the same subject over again, ten times, a hundred times. Nothing in art must seen to be chance, not even movement."

"Painting isn't so difficult when you don't know ... But when you do ... it's quite a different matter!"

"You have to have a high conception, not of what you are doing, but of what you may do one day: without that, there's no point in working."

"I'm glad I haven't found my style yet. I'd be bored to death."

"A picture is something that requires as much trickery, malice, and vice as the perpetration of crime, so create falsity and add a touch from nature."

"Drawing is not what one sees but what one can make others see."

"Your pictures would have been finished a long time ago if I were not forced every day to do something to earn money." Letter to Jean-Baptiste Faure, contemporary art collector, 1877.

"How awful it is not being able to see clearly any more! I have had to give up drawing and painting and for years now content myself with sculpture ... But if my eyesight continues to dim I won't even be able to model any more. What will I do with my days then?"
"Young people today who prefer the later works of Degas and Renoir hardly realize how much of its looser character was due to their failing sight." William Rothenstein.

Quotes from the artist credited as having created the first abstract watercolour: Wassily Kandinsky (1866-1944).

"Objects damage pictures."

"The more frightening the world becomes ... the more art becomes abstract."

"Colour is the key. The eye is the hammer. The soul is the piano with its many chords. The artist is the hand that, by touching this or that key, sets the soul vibrating automatically."

"There is only one road to follow, that of analysis of the basic elements in order to arrive ultimately at an adequate graphic expression."

"Of all the arts, abstract painting is the most difficult. It demands that you know how to draw well, that you have a heightened sensitivity for composition and for colors, and that you be a true poet. This last is essential."

"All methods are sacred if they are internally necessary. All methods are sins if they are not justified by internal necessity."

"Each period of a civilisation creates an art that is specific in it and which we will never see reborn. To try and revive the princples of art of past centures can lead only to the production of stillborn works."

"The artist is not a 'Sunday child' for whom everything immediately succeeds. He does not have the right to live without duty. The task that is assigned to him is painful, it is a heavy cross for him to bear."
Quotes from the French Impressionist who was fascinated by the effect of light at different times of the day: Claude Monet (1840-1926).

"It's on the strength of observation and reflection that one finds a way. So we must dig and delve unceasingly."

"I've 20 or so canvases well under way, stunning seascapes, figures and gardens, something of everything in fact."

"Now I really feel the landscape, I can be bold and include every tone of blue and pink: it's enchanting, it's delicious."

"I'll look in a sorry state when I get home; my clothes have faded in the sun."

"I've caught this magical landscape and it's the enchantment of it that I'm so keen to render. Of course lots of people will protest that it's quite unreal, but that's just too bad."

"I know that to paint the sea really well, you need to look at it every hour of every day in the same place so that you can understand its way in that particular spot; and that is why I am working on the same motifs over and over again, four or six times even."

"I have made tremendous efforts to work in a darker register and express the sinister and tragic quality of the place, given my natural tendency to work in light and pale tones."

"The Thames was all gold. God it was beautiful, so fine that I began working a frenzy, following the sun and its reflections on the water."

"These landscapes of water and reflection have become an obsession."
"I received the spectacles from Germany and much to my surprise the results are very good. I can see green again, red and, at last an attenuated blue."
"The only merit I have is to have painted directly from nature with the aim of conveying my impressions in front of the most fugitive effects."

Quotes from the Norwegian painter best known for the painting The Scream, which was inspired by his sister's death from tuberculosis:
Edvard Munch (1863-1944).

"It would be quite amusing to preach a bit to all those people who for many years now have been looking at our paintings and either laughed or shook their heads reproachfully. They do not believe that these impressions, these instant sensations, could contain even the smallest grain of sanity. If a tree is red or blue, or a face is blue or green, they are sure that is insanity."

"They will not get it into their heads that these paintings were created in all seriousness and in suffering, that they are the products of sleepless nights, that they have cost me blood and weakened my nerves."

"At different moments you see with different eyes. You see differently in the morning than you do in the evening. In addition, how you see is also dependent on your emotional state. Because of this, a motif can be seen in many different ways, and this is what makes art interesting."

"If what you want to paint is the emotive mood in all its strength ... then you must not sit and stare at everything and depict it exactly as one sees it. You must paint the way it must be, exactly the way it appeared when you responded emotionally to the motif."

"Certainly a chair can be just as interesting as a human being. But first the chair must be perceived by a human being. In one way or another it must have affected him emotionally, and the viewer must be made to feel the same way. You should not paint the chair, but only what someone has felt about it."

"But can they [great works] get rid of the worm that lies gnawing at the roots of my heart? No, never."

"I was walking along the road with two friends. The sun set. I felt a tinge of melancholy. Suddenly the sky became a bloody red. I stopped, leaned against the railing, dead tired. And I looked at the flaming clouds that hung like blook and a sword over the blue-black fjord and city. My friends walked on. I stood there, trembling with fright. And I felt a loud, unending scream piercing nature."

"My will exceeds my talents."

"When I paint, I never think of selling. People simply fail to understand that we paint in order to experiment and to develop ourselves as we strive for greater heights."

Quotes from the American Abstract Expressionist painter best-known for his 'drip' paintings: Jackson Pollock (1912-1956).

[A canvas is] "an arena in which to act."

"Every good artist paints what he is."

"I'm very representational some of the time, and a little all of the time. But when you're painting out of your unconscious, figures are bound to emerge."

"The modern artist is working with space and time, and expressing his feelings rather than illustrating."

"I don't work from drawings. I don't make sketches and drawings and colour sketches into a final painting."

"On the floor I am more at ease. I feel nearer, more a part of the painting, since this way I can walk around it, work from the four sides and literally be in the painting."

"Abstract painting is abstract. It confronts you. There was a reviewer a while back who wrote that my pictures didn't have any beginning or any end. He didn't mean it as a compliment, but it was."

"Today painters do not have to go to a subject matter outside of themselves. Most modern painters work from a different source. They work from within."

"The strangeness will wear off and I think we will discover the deeper meanings in modern art."

"It [abstract art] should be enjoyed just as music is enjoyed - after a while you may like it or you may not."

In response to the question "How do you know when you're finished?", Pollock replied "How do you know when you're finished making love?"

Quotes from the Dutch Post-Impressionist noted for his expressive use of colour in his landscapes, portraits, and still-lifes:
Vincent van Gogh (1853 - 1890).

"Nature always begins by resisting the artist, but he who really takes it seriously does not allow that resistance to put him off his stride; on the contrary, it is that much more of a stimulus to fight for victory."

"As soon as I have more power over my brush, I shall work even harder than I do now ... it will not be long before you need not send me money any more."

"There are two ways of thinking about painting, how not to do it and how to do it; how to do it -- with much drawing and little colour; how not to do it -- with much colour and little drawing."

"I want to do drawings which touch some people ... In either figure or landscape I should wish to express, not sentimental melancholy, but serious sorrow."

"I find in many modern pictures a peculiar charm which the old masters do not have ... there is something ... that appeals to us more personally and intimately."

"I do not pretend to anything less than that it would greatly astonish me if in time my work did not become just as saleable as that of others."

"What I like so much about painting is that with the same amount of trouble which one takes over a drawing, one brings home something that conveys the impression much better and is much more pleasant to look at."

"I know for sure that I have an instinct for colour, and that it will come to me more and more, that painting is in the very marrow of my bones."

"I feel such creative power in myself that I know for sure that the time will arrive when, so to speak, I shall regularly make something good every day. But very rarely a day passes that I do not make something, though it is not yet the real thing I want to make."

"As practice makes perfect, I cannot but make progress; each drawing one makes, each study one paints, is a step forward."

"Painting is like having a bad mistress who spends and spends and it's never enough ... I tell myself that even if a tolerable study comes out of it from time to time, it would have been cheaper to buy it from somebody else."

"I shot myself ... I only hope I haven't botched it."

Quotes from and on Impressionist painters such as Manet, Monet, Renoir, Morisot, Pissaro, and Sisley.

"Try to explain to Monsieur Renoir that a woman's torso is not a mass of decomposing flesh with those purplish green stains with denote a state of complete putrefaction in a corpse." Albert Wolf on Renoir's Nude in Sunlight.

"There was a half-length nude picture of a girl. How the rotund fresh breasts palpitate in the light. Such a glorious glow of whiteness was never observed before." George Moore on Renoir's Nude in Sunlight.

"Young people today who prefer the later works of Degas and Renoir hardly realize how much of its looser character was due to their failing sight." William Rothenstein.

"Morisot seems to paint with her nerves on edge, providing a few scanty traces to create complete, disquieting evocations." Octave Mirbeau

"There isn't a single person or landscape or subject which doesn't possess some interest, although it may not be immediately apparent. When a painter discovers this hidden treasure, other people are immediately struck by its beauty.

"Don't paint bit by bit, but paint everything at once by placing tones everywhere, with brushstrokes of the right colour and value, while noticing what is alongside. Use small brushstrokes and try to put down your perceptions immediately. The eye should not be fixed on one spot, but should take in everything, while observing the reflections which the colours produce on their surroundings." Camille Pissaro

"Cover the canvas at the first go, and then work on till you see nothing more to add ... Don't proceed according to rules and principles, but paint what you observe and feel. Paint generously and unhesitatingly, for it is best not to lose the first impression."Camille Pissaro

"We are all the subjects of impressions, and some of use seek to convey the impressions to others. In the art of communicating impressions lies the power of generalizing without losing that logical connection of parts to the whole which satisfies the mind." Camille Pissaro

"The true Impressionist landscape painters are MM Claude Monet, Cézanne, Pissaro and Sisley. Their landscapes, which cease to be confused with each other if you pay a little attention to them, have for me one unpardonable defect, which is that they reduce trees to a state of disembodied phantoms, depriving the trunks of the branches which constitute their real beauty, just like the limbs of a human body." Philippe Burty

"The reproach that superficial people formulate against Manet, that whereas once he painted ugliness, now he paints vulgarity, falls harmlessly to the ground, when we recognize the fact that he paints the truth." Stéphane Mallarmé

What famous artists have had to say about the practicalities and creative challenges of painting.

"Above all keep your colours fresh!" Edouard Manet (1832-83).

"When I've painted a woman's bottom so that I want to touch it, then [the painting] is finished." Pierre Auguste Renoir (1841-1919).

"An empty canvas, apparently really empty, that says nothing and is without significance. Almost dull, in fact. In reality, however, [it's] crammed with thousands of undertone tensions and [is] full of expectancy. Slightly apprehensive lest it should be outraged ... It can contain anything but cannot sustain everything ... An empty canvas is a living wonder -- far lovelier than certain pictures." Wassily Kandinsky.

"It is a widely accepted notion among painters that it does not matter what one paints as long as it is well painted. This is the essence of academicism. There is no such thing as good painting about nothing." Mark Rothko (1903-1970).

"I disklike a picture that is too suave or too skilfully done. But, contrariwise, I also dislike a picture that looks too inept or blundering." Robert Motherwell (1915-1991).

"The essential of painting is that something, that 'ethereal glue,' that intermediary product which the artist secrets with all his creative being and which he has the power to place, to encrust, to impregnate into the pictorial stuff of the painting." Yves Klein (1928-1962).

"On the floor I am more at ease. I feel nearer, more a part of the painting, since this way I can walk around it, work from the four sides and literally be in the painting." Jackson Pollock (1912-1956), on drip painting.
Features On Site
Art Museums
Featured Artist
Boy in a Red Waistcoat
Paul Cézanne (1839-1906).
Featured Artist
Mona Lisa
Leonardo da Vinci
Featured Artist
L'Absinthe
Edgar Degas (1834-1917)
Featured Artist

Wassily Kandinsky
1866 - 1944
Featured Artist
Cathedral of Rouen
Claude Monet (1840-1926)
Featured Artist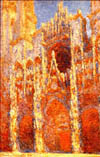 Cathedral of Rouen
Claude Monet (1840-1926)
Featured Artist

Edvard Munch
1863 - 1944
Featured Artist

Frieze (detail)
Jackson Pollock
Featured Artist

Fourteen Sunflowers in a Vase
Vincent van Gogh
Featured Artist
Self portrait at thirty-five years of age.
Pierre Auguste Renoir.
Featured Artist

Woman Playing a Guitar
Pierre Auguste Renoir.
Featured Artist
Mademoiselle Legrand
Pierre Auguste Renoir.
Featured Artist
Andy Warhol
Campbell's Soup Can, 1964