As a water based medium they combine well with watercolors and some Watercolour Groups are starting to accept acrylic paints into their curriculum.

1901
Main study of acrylic by Rohm.

1915
Patent taken out by Rohm.

1931
The first acrylic product to be used in volume was poly (methyl methacrylate) better known by its trade names perspex in the UK and plexiglas in America which was used as a glass replacement in the aircraft of World War II.

1949
An initial range of acrylic paints to be marketed was called Magna by Leonard Bocour who later formed Bocour Artists Colors Inc. in America. They were sold in solution form dissovled with turpentine and could be mixed with oil paints. Moris Louis, Kenneth Noland, Mark Rothko, Robert Motherwell, Barnett Newman and Roy Lictenstien were associated with using these paints.

1953
The first true acrylic paints were introduced by Rohm and Haas. An emulsion formula called Rhoplex AC-33 was marketed as an interior wall paint.

1955
Permanent Pigments develop the first commercially available water-based acrylic paint called Liquitex (Liquid Texture) and in the same year also develop the first water-based varnish, matte medium, acrylic gesso and modelling paste.

1963
Liquitex became widely available in tubes and at a much thicker consistency. many prominent artists began to experiment. These included Helen Frankenthaler, Andy Warhol, and Robert Motherwell in the U>S> and slightly later Bridget Riley and David Hockney in the U.K..

1970
The first machine to test paint for lightfastness is developed.

1971
Winsor and Newton, U.K. produce paints and a range of related products.

1980
Golden Paints Inc. U.S.A. launch a range of acrylic paints.

1984
Liquitex paints are the first to be labelled for ASTM standards, for toxicity, quality and lightfastness. The company then goes on to test all acrylic paint in the art materials industry.

1986
Liquitex develop Interference acrylic paints.

1989
Liquitex develop an Iridescent tinting medium.

1991
Liquitex develop the first acrylic enamel paints call Glossies.

1994
Liquitex develop the first three dimensional, non- leveling, polyurathane paint called 'Structural'.

2000
ColART acquires Liquitex.

10 Tips for Acrylic Painting
Acrylics are extremely versatile, fast drying, and can be used straight from the tube like oils or thinned with water or a medium and used like watercolours.

The fact that acrylic paints dry very fast means that you cannot put a lot of paint on an ordinary acrylic paint palette as it'll most likely dry out before you've finished. Various art supply companies have produced moisture-retaining acrylic palettes to solve this problem. Here are a few tips to help you get started painting with acrylics.

Tip 1: Keeping acrylic paints workable
Because acrylics dry so fast, squeeze only a little paint out of a tube. If you're using a 'normal' plastic palette invest in a spray bottle so you can spray a fine mist over the paint regularly to keep it moist. 'Stay-wet' palettes - where the paint sits on a sheet of wax paper place on top of a damp piece of watercolour paper - eliminate the need to do this, but generally don't have a hole for your thumb so are more awkward to hold in your hand.

Tip 2: Blot your brushes
Keep a piece of paper towel or cloth next to your water jar and get into the habit of wiping your brushes on it after you rise them. This prevents water drops running down the ferrule and onto your painting, making blotches.

Tip 3: Opaque or transparent
If applied thickly - either straight from the tube or with very little water added - or if mixed with a little white, all acrylic colours can be opaque. If diluted, they can be used like watercolours or for airbrushing.

Tip 4: Acrylic vs watercolour washes
When an acrylic wash dries, it's permanent and, unlike a watercolour wash, is insoluble and can be over-painted without fear of disturbing the existing wash. The colours of subsequent washes mix optically with the earlier ones. A watercolour glaze can be lifted out using water and a cloth.

Tip 5: Think thin when thinking glazes
If you want transparent, watercolour-like glazes, these should be built up in thin layers; a heavy layer will produce a glossy surface.

Tip 6: Improve flow without losing colour
To increase the flow of a colour with minimal loss of colour strength, use flow-improver medium rather than just water.

Tip 7: Blending acrylic paints
Because acrylics dry rapidly, you need to work fast if you wish to blend colours. If you're working on paper, dampening the paper will increase your working time.

Tip 8: Hard edges
Masking tape can be put onto and removed from dried acrylic paint without damaging an existing layer. This makes it easy to produce a hard or sharp edge. Make sure the edges of the tape are stuck down firmly and don't paint too thickly on the edges, otherwise you won't get a clean line when you lift it.

Tip 9: Washing-up liquid with masking fluid
Masking fluid can be used with acrylics washes, as well as watercolours. Once masking fluid has dried in a brush, it's nearly impossible to remove. Dipping a brush into some washing-up liquid first makes it easier to wash masking fluid out of a brush.

Tip 10: Using acrylic paint as a glue for collage
Provided it's used fairly thickly and the item to be stuck isn't too heavy, acrylic paint will work as a glue in a collage.

Parastoo Ganjei
Parastoo Ganjei granddaughter of one of the greatest painters in Iran, has been living in England since 1977. She received her BA from the University of Decorative Arts in Tehran and studied animation, graphic design and illustration in England.

There is a fine reconciliation between opposites in Parastoo's paintings and she tries to lose the gap caused by the brief impression and lasting expression. Parastoo paints her objects at an angle that suggests she is looking from high up. This way of looking at objects gives her a different approach to what she sees and maintains a sense of planes. Her individual elements placed three-dimensional on a flat background, have a distinct substance with their shadows. This creates a tension between realism and abstraction. The strong opposition expressed by three-dimensional reality to decorative abstraction is what she likes to achieve in her paintings. Parastoo rates expression above impression and decoration above realism and creates a nostalgic view of the most ordinary objects around us. She is a representational painter, and believes in enjoying paintings that evoke our previous experiences, emotions and feelings, which are easily recognisable to us. She likes to insinuate the nostalgic feeling of purity, simplicity, happiness, victory and unity through her works. Parastoo's paintings have attracted private collectors from around the world and have been shown in numerous exhibitions in UK. Parastoo Ganjei is a member of the National Acrylic Painters' Association.

Mike Fenner
Award winning artist Mike Fenner is one of the founder members of the National Acrylic Painters' Association. He has exhibited regularly with NAPA, and has taken part in other group exhibitions both in the UK and abroad. He has also had several Solo Exhibitions, at the Williamson Art Gallery, Hanover Art Gallery (Liverpool), and the Durham University Gallery.

Mike works exclusively in acrylics and has won several awards for his application of acrylics to gain the effect of older oil techniques.

His interests in painting are working figuratively in a style, which combines early Renaissance techniques with symbolic and iconic overtones. Currently Mike is exploring Breton mythology as a basis for subject matter, particularly the myth of "Dahud" and the island of Ys.

"...I believe in the truth of myth and its continuing relevance; the power of symbol-ideas; underlying the fleeting external objective world, there is the substratum of history, mysticism, and the collective unconscious. To integrate these elements is the aim of my work."
Mike Fenner 1998. Mike Fenner is a member of the National Acrylic Painters' Association.

Joe Ray Kelley
Statement of Artist
"Art makes it possible to communicate with all people without words. I find beauty in visually expressed emotions of living. In painting people, I make every effort to capture the facial features that viewers can clearly identify with and relate to: eyes that silently speak volumes along with facial expressions and gestures that reflect mood, temperament and intimacy. If unknown, I speculate about the past, present, and future of the subject being painted. From the initial planning of a new painting to the final brush stroke, I receive tremendous gratification and pleasure."

Joe Ray Kelley, a native of Missouri, U.S.A. has been well represented in the art arena throughout the Mid-West; his work has been accepted and rewarded in many regional, national and international juried art shows and exhibitions.

Largely, a self-taught artist, Joe's paintings exude a profound understanding of the interplay of light and subject; his commanding use of color truly focuses and enhances the viewers' experience of mood and intimacy.

Joe is a member of many artisan organizations, including: the National Oil and Acrylic Painters' Society NOAPS), Joe Ray is Registrar for the NOAPS Signature Artist Guild,the Kansas City Artists Coalition and the Greater Kansas City Artist Association. Gallery membership and representation have included: Agora Gallery, SOHO in New York City, New York, the Northland Exposure Artists' Gallery in Parkville, Missouri, the Period Gallery in Omaha, Nebraska and Wishing Spring Gallery, Bella Vista, Arkansas.

In addition, Joe Kelley has been recognized in the fine art field and was the honored recipient of The Director's Award at "The Second International Spiritual Exhibit" held at the Period Gallery in Omaha, Nebraska to highlight one among many other prestigious awards and recognitions.

Many buyers, domestic and abroad, have selected Joe Kelley's art to proudly hang in homes and corporate offices from Galway Bay, Ireland to Monterey Bay, California to Hong Kong, China.

He has traveled extensively and visited many galleries and museums (including St Petersburg Russia, Paris, Toledo Spain, Dublin Ireland, New York, Carmel,CA and Chicago) to study art. To visit Joe Ray Kelley' website click here.

.
Features On Site
Art Museums
Featured Artist
Figure Over Blue
Figure Over Green
Magenta Arch
Featured Artist
Sharyne E. Walker
Dream of the Lily
Sharyne E. Walker
Genesis III
Sharyne E. Walker
Male Nude Study
Featured Artist
Parastoo Ganjei
"Golden Apples and Tapestry"
Parastoo Ganjei
"Golden Reflections"
Featured Artist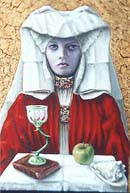 Mike Fenner
Dahudiv
Mike Fenner
Shrine
Featured Artist
Joe Ray Kelley
Natural Beauty
Joe Ray Kelley
Native Guardian